Preparing Presentation for a Research Proposal – Guide
Order Now
Do You Need a Research Proposal PowerPoint Presentation?
Writing and giving a research proposal presentation is sometimes required with some institutions and other bodies when considering you. You will have to be able to clearly demonstrate your expertise in your field and clearly show that your proposed research is worthy of their attention and sponsorship. Do a good job and you will be on your way to doing that all important research and gaining that doctorate degree that you are looking for. Do a poor job and you could be heading back to the drawing board after a huge amount of wasted work.
Writing a thesis proposal that is going to persuade the committee that you are worthy is a hard job, presenting it to them is another matter entirely. Not everyone is comfortable with presenting in front of people, especially when there is so much at stake. Yet you are going to have to ensure that you really do your very best to succeed.
Our services have been giving support to students at this level for many years and we have the expertise and experience required to provide you with all of the help that you need. Through us you can get everything that you need to make that presentation a success:
How to Write a PhD Proposal Presentation
Knowing how to write a presentation proposal is very different from the actual doctorate research proposal. You are not simply going to be putting the proposal up on the screen and reading it word for word; after all the committee will already have copies and will have read it. So you will have to put some thought and work into creating a presentation that will be capable of getting across the main points of your doctorate research proposal.
A typical research proposal presentation is only 10 minutes in length with an additional 5 minutes or more for questions and answers. It must be able to cover all aspects of your paper within that time. The presentation will need to cover all of the following areas:
Title: show what the research is going to be about and also acknowledge your mentor and department if applicable.
Introduction: this needs to show: the reasons for choosing this topic, why it is of interest to you and to the subject area in general, what is already known, what are your actual research questions, why it is important to answer, why it is important to the institution
Methods and materials: what methods are you proposing to achieve the project aims, why have you chosen them over others, show how you can conduct them with the available time and resources, what could go wrong.
Research proposal timeline and plan: show clearly how you expect your research to progress
Results and discussion: outline what you expect to discover through your research and what the implications are for your field
Acknowledgments: mention anyone that has provided you with support and funding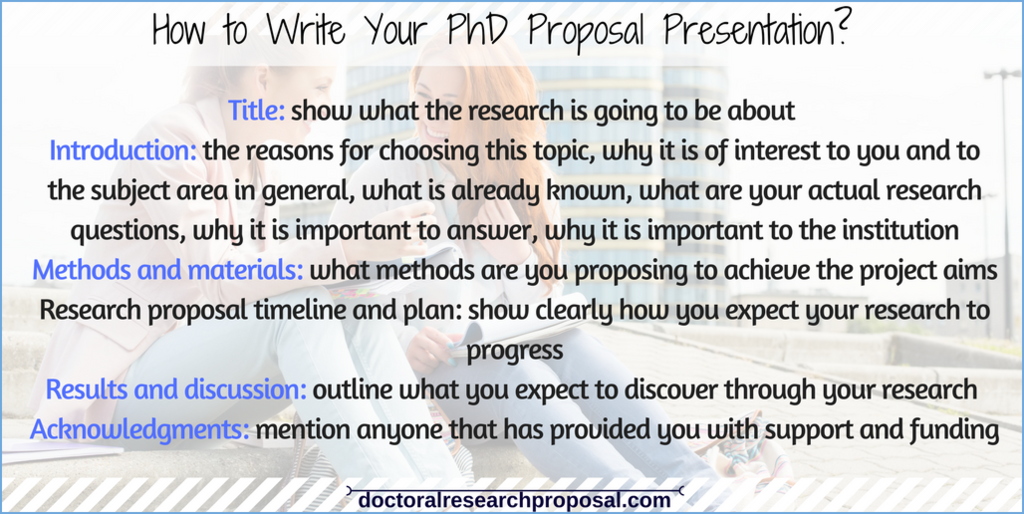 Create Slides for Your Research Proposal Presentation
A good presentation that is going to engage and impress the audience is not one in which you face the screen and read aloud what is written there. Slides are there to support what you have to say not to provide you with a script to read from. When preparing your slides you need to consider all of the following:
Use a clear template that is uncluttered: you want the audience to see and hear what you have to say not admire its artistic merits.
Avoid large blocks of text: use bullet points and try not to exceed more than 6 or 7 on each slide.
Use fonts that are clear and easy to read: don't make multiple indents on bullets with ever decreasing font sizes that no one can read.
Ensure that all tables, graphics, and graphs are clearly labeled and of a consistent format and style.
Preparing for Your Research Proposal Presentation
Knowing how to present a proposal is important if you want to ensure that you get the results that you are looking for. Most people are understandably nervous in giving a presentation in front of people, especially when you know that they may be sitting there to ask that difficult question that you have not prepared for. Remember however that you are the expert in your field and that many of the committee may know little or even nothing about what you are talking.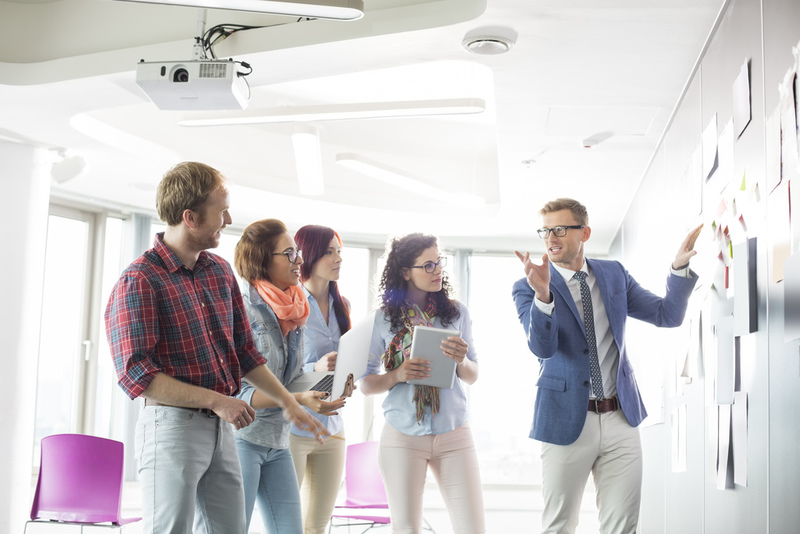 The following are some tips for preparing for and giving your presentation:
Don't leave it until the last minute.
Practice before hand with your peers and friends so that you are confident that your talk will be delivered within the time allowed and effectively. You want to know your presentation well enough to give the talk without having to constantly look down at your notes or read from the screen.
Go watch other presentations so that you get a good idea as to what you should expect from your own.
Check the room ahead of time so that you are sure your laptop will work with the projector and to avoid any other potential issues.
Arrive early so that you have time to prepare and bring water with you for that nervous throat that you are going to have.
Talk slowly and clearly while looking at your audience.
Prepare for likely questions, but if you really don't know an answer do not make anything up as you will be caught out, a simple "I don't know." Is often enough. But too many responses of "I don't know" is not going to help you.
We Can Help with Your Research Proposal Presentation
Our specialized services can help you with everything from sourcing references for your research, to writing your paper, to crafting that all-important research proposal presentation. Our experts have many years of experience at what they do and only work in the areas in which they themselves hold a PhD ensuring a full understanding of your research area. They work directly with you throughout the process and will be able to support you with creating your slides through to identifying and preparing for the questions you are likely to be asked.
All support that we provide is tested for plagiarism and also proofread to ensure that it is free from errors and of course unique to you. We also provide you with a full satisfaction money back guarantee and our totally confidential services will always deliver your support on time.
Contact us today to deliver an effective and persuasive research proposal presentation with the help and support of our highly qualified and reliable specialists.