What You Have to Know about the Difference between Qualitative and Quantitative Analysis
Degree-holding writing pros will present your project as strongly as possible.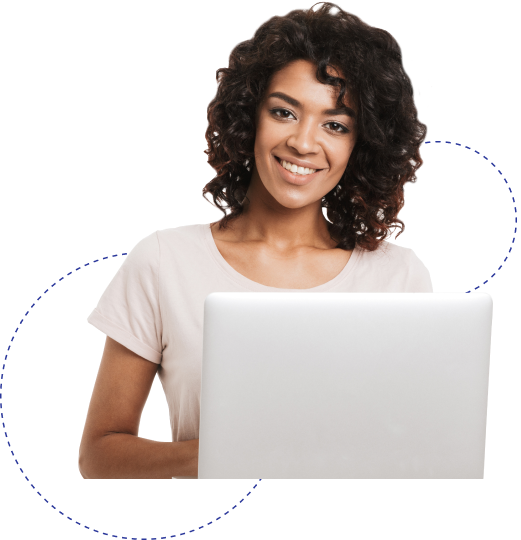 Trusted by over 5000 students since 2012
Why Do You Need to Know the Difference Between Qualitative and Quantitative Analysis?
With any form of research, you are going to gathering data to help answer the research questions that you have posed. This data may be formed of hard numbers (quantitative data) or people's opinions (qualitative data). Both are valid ways of collecting data but require very different methods for collecting and analyzing the information that you collect.
So writing a qualitative research proposal is going to be a very different task to writing a quantitative research proposal. The two different methods can result in some differences between for instance writing quantitative research questions against qualitative ones. So great care needs to be taken right from the start of your writing to understand the methods that you are likely to apply. Do you need help with writing a doctoral research proposal? Click here and learn how you can get it.
Our specialized writing and editing services have been around for several years and are able to provide you with all of the support that you need in understanding the differences between the two methods and how they should be incorporated into your proposals. We can provide you with the help and advice that you need to ensure there is confusion within your writing.
Quantitative and Qualitative Definition
The following definitions will help you to better understand the differences between the two approaches and their use in writing a quantitative or qualitative research proposal:
Qualitative Research
Qualitative research is usually used to explore different ideas. It will often be utilized to understand motivations, opinions and the underlying reasons as to why something happens. Data collection is usually through unstructured or semi-structured methods such as the use of interviews, group discussions, and observation. More often than not the sample sizes will be small but will require a lot of analysis once collected. Often researchers will use qualitative methods to gain information that will later drive quantitative methods. Data collected is usually text-based and highly variable, often there are no easy statistical methods that can be utilized to test it.
Quantitative Research
Quantitative methods will usually generate large amounts of numerical data that can then be used to generate statistics on a problem. We use this form of data to quantify different defined variables which can still cover people's opinions and behavior. Collection methods are usually more structured and can include surveys and direct measurement. Data generated is usually numerical in nature and there are many statistical tests that can be used.
The Differences in Writing a Qualitative Research Proposal against a Quantitative One
The structure of either a quantitative or qualitative research proposal is actually going to be just the same. The difference with writing a dissertation proposal will be in how you justify and select the methods that you will use to gather the data and how you will then analyze it. The following are some of the things that you need to consider to avoid the many barriers and pitfalls with using qualitative data:
To justify the use of qualitative research methods when writing a doctoral research proposal you will usually have to show that the area that you wish to study is unexplored; hence the need to use qualitative techniques which by their nature are exploratory. Even so, you may still be asked why you have chosen them if there are similar issues that have already been explored.
For qualitative research, you will have to show that your methods are sound, allow you to access necessary data, and are not going to affected by other variables beyond the study you are conducting. You must take care with all of the following:
Who: you must ensure that the persons selected for your study offer a full spectrum of the population to avoid any biases.
Where: the location of your interviews or group sessions can have a significant impact on the feedback that you receive and needs to be considered within your design.
When: will you be collecting data over a few weeks or a few years. Time can often have a significant impact on your responses.
How: your actual method can impact the information that you receive as well as how you record the information. Will a notepad and pen in your hand really record all of the important information or do you need a video camera?
You will need to justify the approach that you have taken, some of the typical types of qualitative research that you can use are grounded theory, narrative inquiry, ethnography, phenomenology.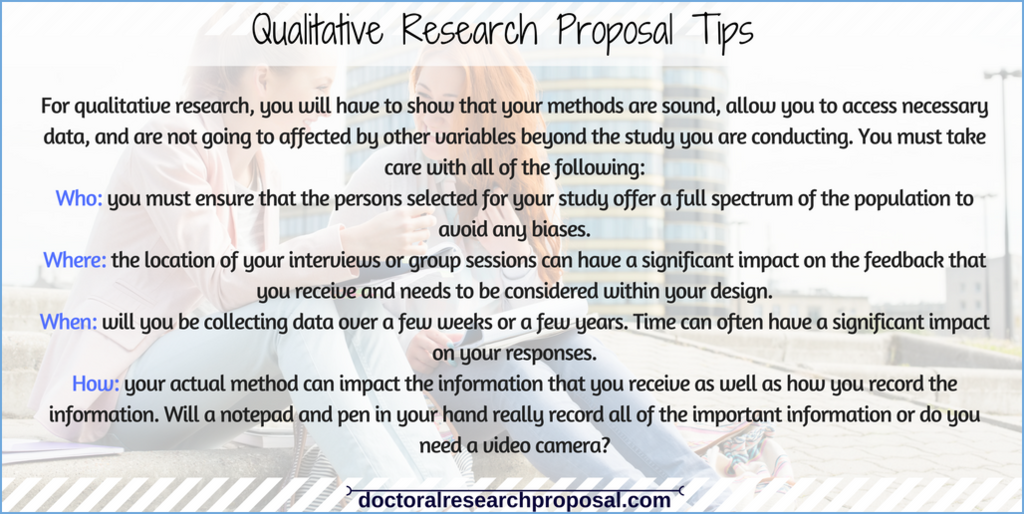 Qualitative Research Often Becomes Quantitative
It is rare that a piece of research will be either qualitative or quantitative. Often you will have a little of both involved in your research. For instance:
Unstructured research may provide you with many different common themes that are voiced by your participants. These may then require further investigation as your research develops through more rigorous quantitative methods. Remember that your research is not going to be set in stone at the proposal stage; if you discover something of real importance and interest you should explore it.
Structured questionnaires for collecting quantitative data will also often contain a section for the respondent to provide their opinions on the subject matter being investigated. Often these opinions and comments can lead to new avenues of research worth doing.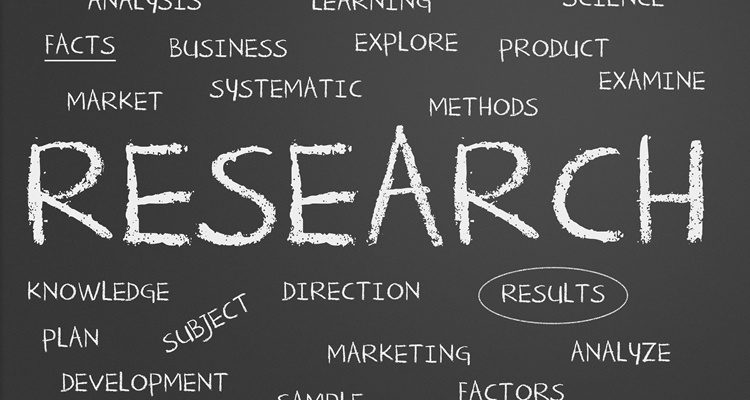 We Can Help with Your Qualitative Research Proposal Writing
We are a highly specialized writing service and our help can be provided for all forms of research proposals. Our specialists are highly experienced in conducting research in their respective fields and know the specific methods that are best applied for the form of research that you wish to conduct. They hold PhD degrees of their own in the areas in which they work and will be able to give you informed advice to help you to develop everything from your research questions to your methodology within your proposal.
All support provided through our services is done from first principles with no possible copying. We allow for unlimited revisions and your expert continues working with you on your qualitative research proposal until you are totally satisfied.
Contact our specialists today to get guaranteed and effective support with your quantitative or qualitative research proposal writing that you can trust and afford.
Want to speed research proposal writing up?