How to Compose a Quality Research Proposal for Mathematics
Best tips on what will make your research proposal for mathematics stand out.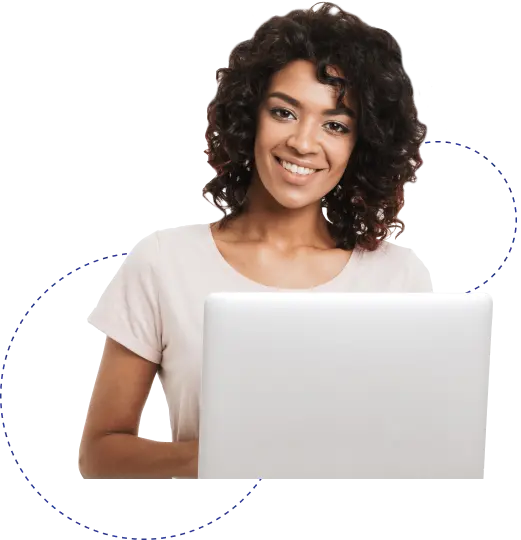 Trusted by over 5000 students since 2012
What is a Research Proposal in Mathematics Education?
This one is an official document representing the significance of the study. It's a kind of plan you submit to the supervisors or the funding committee to share information about your research goals, as well as investigation issues, objectives, and methods related to teaching, learning, program development, or assessment in mathematics education.
Crafting an impactful research proposal for mathematics is extremely hard, although utterly exciting. Most students' problems are often related to a lack of fundamental knowledge and complexity of particular topics & concepts, predicting the potential study influence, or suggesting effective issue solutions. Ordinary time management issues may also create a lot of hassle.
Except for the difficulty factor, there's the need to follow strict structural and formatting guidelines. Obviously, writing professionals can easily compose a good text. Learners, on the other hand, are often doing this for the first time. Despite all the different approaches to crafting proposals, almost always, mathematics research encompasses the following parts:
Problem overview.
(Potential) solutions.
Costs (both in human efforts and budgetary ones).
Possible benefits.
Of course, the action research proposal in mathematics content will change according to the specific mathematics research topics and corresponding college guidelines. We believe it is completely obvious that writing such a complex task requires extraneous amounts of effort and time. As a result, many learners decide to delegate these assignments to seasoned experts, freeing up their time for more important responsibilities.
How to Write Best Research Proposal in Mathematics Easily
Despite all the different approaches, almost always, a mathematical survey encompasses the following parts:
Choosing a Specific Topic. Formulate clearly the problem you are going to solve, explain its relevance, and articulate a concise, well-structured question or hypothesis your study aims to answer. If you have several research proposal in mathematics topics, try to choose a specific one that interests you and have enough materials to study.
Highlighting Importance: Formulate the significance of your investigation and its possible implications on the mathematics field. Justify why it is significant and how it enhances knowledge.
Tailoring to Audience: Adapt your engineering proposal to your target audience, whether it's an academic committee, potential advisors, or funding agencies. Take into account their interests, worries, and expectations.
Conducting a Literature Review: Thoroughly examine existing literature related to your chosen topic and prepare the theoretical background for your action research proposal in mathematics.
Outlining Your Methodology: Describe the methods and techniques you plan to use to investigate the chosen mathematics issue. Explain why these methods are appropriate and how you will apply them.
Proposing a Timeline: Create a realistic timeline that outlines your mathematics project's key milestones and stages.
Budget and Resources: Estimate the necessary research resources, including materials, software, equipment, and any potential travel. Justify the budget allocation based on the requirements of your work.
Writing a Clear and Compelling Paper: Craft a well-structured and engaging research proposal in mathematics education following the guidelines provided by your institution or funding agency.
Citations: Properly cite all sources you reference in your paper using the appropriate citation style (e.g., APA, MLA, Chicago).
Proofreading and Formatting: Check the text for grammatical errors, typos, and formatting issues. Ensure consistency in style and formatting throughout the document.
Review Our Sample of Action Research Proposal in Mathematics
We recommend you check the following sample of action research proposal in mathematics to see for yourself the quality of the work. It includes such parts as:
Introduction
Background of the Study
Statement of the Research
Objectives
Limitation of the Study
References.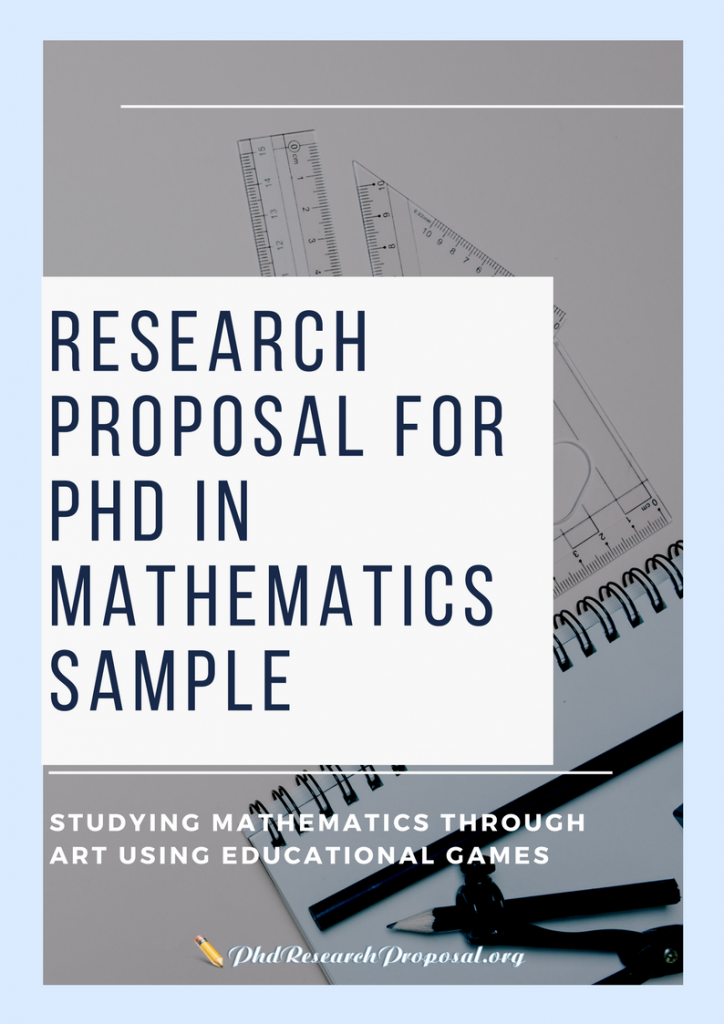 Some Topics for Action Research Proposal in Mathematics
In case you lack inspiration, we've listed a few mathematics topics to give you some inspiration.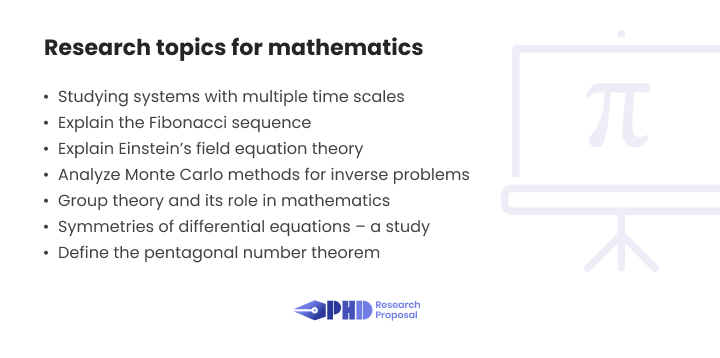 In addition, many experts recommend moving away from traditional research proposal topics in mathematics and looking more broadly. Mathematical theoretical concepts are at the core of various fields, covering many engineering, architectural, and business industries. You can also find good ideas by checking out studies in information and computer technology.
Quite a few finance and accounting fields also involve mathematics concepts. The same can be said about logistics, social and political sciences, business, and management. Perhaps some ideas are not on the surface, and you will have to dig deeper. However, as a result, you will be able to identify several worthy solutions that can not only take your research proposal to the next level but also make it more relevant, valuable, and effective.
How to Start Writing Mathematics Research Proposal?
Sometimes, it may be difficult to get started because of the abovementioned factors. Nevertheless, we recommend a few techniques to help you get a grip on your writing.
Set goals you are sure to accomplish and move step by step, sticking to a certain schedule ( e.g., use the Pomodoro technique).
Take some ready-made examples of proposals dedicated to working with theoretical frameworks, as a mathematics research proposal may have different approaches to presenting your research than any others related to applied solutions.
Acquire the support of your supervisor – any writing prompts, guidance, one-to-one conversations, etc. Getting help isn't a weakness but a testament to your desire to develop a better project proposal.
You can also try to start a mathematics research proposal by preparing a theoretical base and additional materials, visuals, graphs, diagrams, etc. First, it will allow you to focus and choose a direction for your work. Secondly, having a variety of ready-made materials is ideal for combating the fear of a blank sheet. In addition, a well-designed research proposal involving many mathematics visuals has greater value and, in all likelihood, will be better received by the target audience.
Get Research Proposal for Mathematics Worthy of Your Tutor's Approval
Do you need writing professionals to complete your mathematics paper quickly and without problems? We are one of the top services on the market – picking us over others is an obvious decision.
The service benefits are plentiful, covering almost all client experience areas, but that is not the end of it all! We also offer extra features:
"Top" and "First-Rate" writer options.
Continuous chat with writers and email updates.
Revisions during the writing process and free edits after getting the final result.
Plagiarism report and list of sources.
Help with revision and final proofreading.
Even more importantly, our service heavily prioritizes customer safety. Whenever students are purchasing mathematics research proposal – their banking information is secured. No third party will access confidential client data. The website integrates exclusively safe buying options: Visa & Mastercard. Further enhancing security, our platform encompasses modern web security protocols, protecting customer connection to our servers.
With the help of our specialists, you no longer have to puzzle over how to write best research proposal in mathematics. Finally, just take a breath from your overwhelming academic loads by entrusting our experts.
Contact us and fill out the order form to make your life easier!
Want to speed research proposal writing up?
Fill out the form, and we'll get back to you in under 15 minutes.