PhD Research Proposal
The research proposal is one of the trickiest parts of the PhD research project, it's the part where you must lay the groundwork for your future project, where you must formulate a position and defend it, where you must convince the reader of the worthiness of the project and make a hypothesis on the outcome. Its difficulty essentially lies in the fact that you must do a lot of preparation, as well as predicting, on something you haven't even started; it requires a certain amount of guesswork and prescience. How to write a PhD research proposal? Writing a PhD research proposal is a multifaceted process with a few unique aspects you must bring a unique skill set to.

Checking PhD Research Proposal Samples
Sometimes checking PhD research proposal samples can help you in understanding the proper structure of any PhD paper and proposal itself. Try to search for PhD proposal samples online or check one PhD proposal example prepared by our writers. Of course topic of your research proposal will differ and depending on the methodology you are going to apply general outline can vary. So consider defining whether you have either qualitative or quantitative proposal and look for appropriate PhD proposal samples. Once you are done with your research, craft an outline and consider what structure your further PhD thesis will have. PhD proposal is very similar to a small thesis, it also includes an introduction, literature review in form of significance of the research, definition of methods and first assumptions about the possible results.
Why Are Proposals Rejected?
According to Geneseo  the main reasons why a PhD proposal will be rejected will be down to:
Late submission outside of the deadline
Topic was not appropriate to the body it was submitted to
The guidelines for content, format and length were not followed exactly
All of these problems are easily overcome as long as you put in the effort and time to ensure that you fully understand what is expected of you. Submitting a proposal without a clear understanding of the requirements will almost certainly prevent your work from being accepted.
Submitting a Well Written Proposal
The following guidance will help you to better understand how you can go about writing a research proposal that will be accepted:
Select a topic area that will be of interest to you as well as important to your subject area in general. You must also ensure that the institution you are applying to will be able to, and want to, support you in this area.
Get a template for your proposal that has the correct format and structure for your writing; it is vital that you fully understand the correct academic style that you work is written in.
Create a timing plan for the research and writing that you need to do and stick to it. Don't forget to allow time for revising and proofreading your work.
Do research using reliable and relevant sources. You should avoid only having references that are all websites discovered through Google. Use journals, published literature, and past papers as well as websites which should be mainly educational or government based to ensure reliability.
Create an outline for your writing before you start. This will provide you with a clear idea as to what must be covered within each section and will help you with quickly getting down what you want to write with a minimum number of revisions.
Get into a routine for doing your work. Dedicating the same time every day for doing your research and writing will ensure that you make constant progress towards your goals and will not miss your deadlines. Ensure that work is done in a place that is free of distractions.
Revise and proofread your writing very carefully to ensure that it is written in an effective and persuasive manner and free of errors. If possible have a third party do this for you.
Also remember as McGill University says within their advice:
"Your research proposal is not a binding document; it is a proposal. It is well understood by all concerned that the research you end up pursuing may be different from that in your proposal.

Instead of treating your proposal as a final, binding document, think of it as a flexible way to plan an exciting (but feasible) project that you would like to pursue."
If however you are struggling to understand just how to craft that well laid out and persuasive proposal our specialized and reliable services can help you.
How to Write a PhD Research Proposal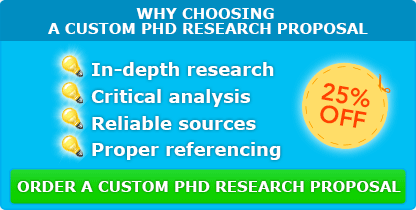 The most important part of the PhD research proposal is developing ideas or stances that will hold your interest throughout the long working process, that will intrigue the reader and convince them of the worthiness and necessity of your project, and that can be a question, defended or proven with some sort of project that you will undertake. The idea all depends on the nature of your assignment, but as a rule of thumb it should be specific enough that you can delve into it with a PhD-level ferocity, but not so specific that it limits what you want to accomplish or say. How to write a PhD research proposal? The best way to approach writing a
PhD research proposal
is to take it one task at a time, formulate an idea, find some supporting evidence and see if there's enough there to conduct a project on, if not then start again with a new idea. There's no easy answer to "how to write a PhD research proposal", so your best bet is to visit Researchproposal.org and get professional help on whatever you need today!
There are a limitless number of ways to approach the PhD research proposal, the best chance you have at being successful is to visit Researchproposal.org and find the best way for you! We can help you with anything from PhD research proposal format to writing and editing. If you're asking "how to write a research proposal for PhD", just ask our professionals for help with PhD research proposal.
Quit asking "how to write a research proposal for PhD" and get pro help today!